Next Trail Project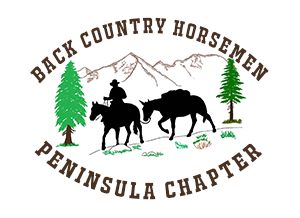 You can help us keep trails open for stock use and fulfill our mission...
Saturday, December 3, 2022, GrayWolf Crew on the Elwha-Hurricane Hill Trail in the ONP
Brushing, treadwork, drainage. Join with Peninsula Chapter and the GrayWolf crew on this and other collaborative projects! See project list and RSVP here.

Thursday, December 1, 2022, Thursday Crew on the ODT/Olympic Adventure Trail
Every week on Thursdays, the County (Clallam) maintains the ODT (Olympic Discovery Trail). You can get involved and help Peninsula Chapter contribute volunteer hours. Sign up with Bill Mueller as a BCHW volunteer. Here are steps:
First: Contact Clallam County Human Resources, phone # 360-417-2429, to get info about the trail crew and be vetted for county volunteer work.
Once vetted, contact Steve Gray at SGray@co.clallam.wa.us and ask to be put on the email list for the Thursday crew.
Every Thursday, the crew meets before 9:00 AM at the county road department facility on Lauridsen Blvd. across the street from the county transportation (bus) complex.
The crew then gathers for tools, lunches, and carpool transportation, leaving at 9:00 sharp for travel to the work site.
The contact at the road department site is Steve Gray, the trail crew supervisor. Bill Mueller (BCHW liaison) is usually always there also to have you sign a BCHW work sheet as well as the county work sheet.
Your needs: backpack, work clothes, rain gear, gloves, other personal protective equipment (PPE), work boots. Hard hat required; county can supply one.
That's about it. Head out and go to work.
See our calendar here for more trail work projects and events.