Fire Click on the Map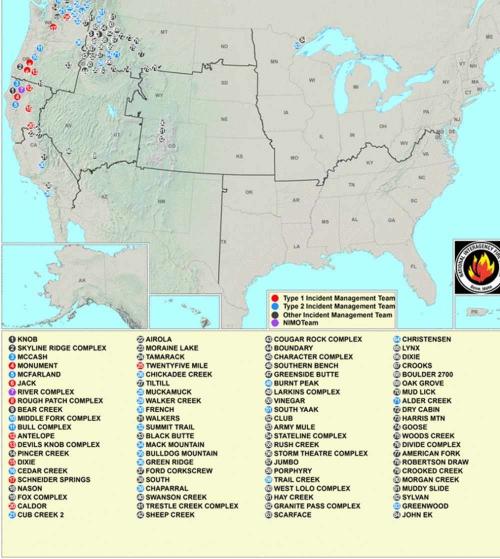 FIRE WARNINGS:
Tap here for current information: https://firms.modaps.eosdis.nasa.gov/usfs/map/#m:tsd;d:today;@-120.9,46.2,7z
---
For immediate release: September 9, 2020 Contact: Alejandro Barbero, (904) 357-9823 alejandro.barbero@rayonier.com Web: https://www.rayonier.com/media
https://www.airnow.gov/fires/ where to take your animals when you are evacuating.
Notice of public closure. POULSBO, Washington – Due to the current fire activity and / or fire hazard conditions, Rayonier has closed all access to its forestland properties in California, Oregon and Washington until further notice. These properties include lands owned by Rayonier, Pope Resources, Olympic Property Group (OPG), and managed by Olympic Resource Management (ORM). The town of Port Gamble remains open. The closure will remain in effect until significant rainfall occurs and / or the fire hazard conditions improve. Our primary concern is for the safety of our employees, contractors, customers, neighbors, and those who enjoy our properties. We regret the inconvenience this may cause and appreciate everyone's cooperation to ensure the safety of everyone that may be impacted. Our support and hearts go out to all the emergency responders, local government, and volunteers on the frontlines fighting the different fires, preventing new ones and keeping everyone safe. When properties reopen, we will announce it on https://www.rayonier.com/media. About Rayonier Rayonier (NYSE:RYN) is a leading timberland real estate investment trust with assets located in some of the most productive softwood timber growing regions in the United States and New Zealand. We own, lease or manage approximately 2.7 million acres of timberlands. We are More than trees because we recognize that our 90+ years of success in the timberland industry comes from our people, an empowering culture and the courage to constantly challenge "the way it's always been done." Get to know us at www.rayonier.com
COVID UPDATE:
OLYMPIC REGION
Camping
All the campgrounds in this region are open for camping. This includes:
Bear Creek, Coppermine Bottom, Cottonwood, Hoh Oxbow, Lyre River, Minnie Peterson, South Fork Hoh, and Upper Clearwater.
Yahoo Lake access will be closedfrom Monday, Sept. 21 until Thursday, Sept. 24.
All recreation sites are open for day use only, including Damon Point.
Day Use
Natural Areas such as Natural Resources Conservation Areas (NRCA) and Natural Area Preserves (NAP) are open. No restrooms available.
Contact
Questions? Please don't hesitate to contact staff directly, email us at olympic.region@dnr.wa.gov or call 360-374-2800.
Tap on Olympic Region map above or tap this link to see all state: