Back Country Horsemen of Washington State, Peninsula Chapter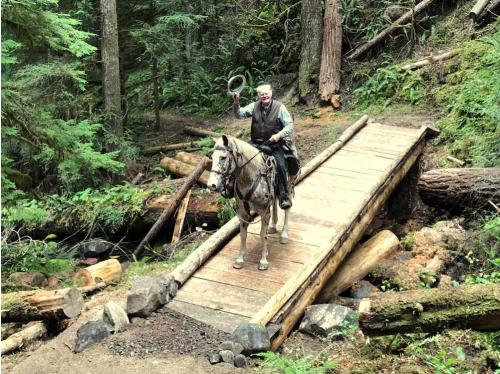 We are a local chapter of a nation-wide organization that is committed to protecting the access of equestrians to public lands. We are devoted equestrians who love to ride and explore new trails. We assist with trail maintenance and improvement projects, keeping trails clear for all user groups. We welcome riders of all types!
OUR MISSION STATEMENT
To perpetuate the common sense use and enjoyment of horses in America's back country and wilderness.
To work to insure that public lands remain open to recreational stock use.
To assist the various government and private agencies in their maintenance and management of said resource.
To educate, encourage and solicit active participation in the wise use of the back country resource by horsemen and general public commensurate with our heritage.
To foster and encourage the formation of new chapters in the state organization.
Peninsula Chapter History
Organized in 1975 as a Backcountry Horseman of Washington (BCHW) affiliate.
We are a member of Backcountry Horsemen of America, a national organization.
Gained 501c3 non-profit status in 2010.
Maintains, develops, and advocates for trails throughout the Olympic Peninsula.
Work side-by-side with County, State, and Federal trail crews; including ODT, WTA, DNR, USFS, PTC, WSP, and ONP.
Community Partners
Peninsula Chapter contributes over $140,000.00 of in-kind labor, equipment, and tool use to help maintain the trails on the Olympic Peninsula each year. Including over 3000 hours of volunteer efforts on 500 miles of trail.
The Peninsula Chapter maintains multiple use trails. All users benefit from our all-volunteer efforts.
Anyone can be a member of the Peninsula Chapter. Being a rider is not essential to being a member. Members contribute by maintaining trails, contributing financially, and promoting BCH to keeping our trails open, in good repair, and available to multiple users.
Some members travel across the state to assist other BCHW Chapters with trail projects.
The Peninsula Chapter sponsors a full calendar of fun and trail work events, along with General Membership meetings.
Look for, and Like Us, on Facebook: Backcountry Horsemen of Washington – Peninsula Chapter.
BCHW Overview
Back Country Horsemen of Washington (BCHW), is a 501 (c) (3) organization with 35 chapters across the state dedicated to: keeping trails open for all users; educating horse users in Leave-No-Trace practices; and providing volunteer service to resource agencies.
We are networked with Backcountry Horsemen of America Inc. (BCHA), in 25 other states. Come join us for good friendship, good information, volunteer opportunities, and the chance to make a difference!