Back Country Horsemen of Washington Peninsula Chapter
---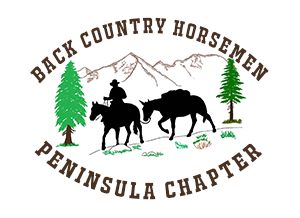 The BCHW Peninsula Chapter is a chapter of Back Country Horsemen of Washington (BCHW). Located on the beautiful Olympic Peninsula in Washington State, we are a 501c3 non-profit organization dedicated to the use and enjoyment of horses and other pack stock on America's trails and back country.
We work to keep public lands open to recreational stock use, assist the various government and private agencies in maintaining the trails, and educate and practice wise use of our lands through Leave No Trace (LNT) principals. 
Public Notice and Disclaimers
The documents and information published on this registered website are provided for informational purposes only. The information contained on this website represents the current view of Back Country Horsemen of Washington State Peninsula Chapter on the issues discussed as of the date of publication. Information contained on this website should not be interpreted to be a commitment on the part of BCHW or Peninsula Chapter. 
BCHW Peninsula Chapter cannot guarantee the accuracy of any information presented after the date of publication. Information provided on this registered website is provided "as is" without warranty of any kind, either express or implied, including but not limited to the implied warranties of merchantability, fitness for a particular purpose and freedom from infringement.
The user assumes the entire risk as to the accuracy and the use of information published on this website. Information and documents and graphics may be copied and distributed subject to the following conditions:
1) All text, graphics, photos, logos, trademarks, depictions, symbols, color schemes, must be copied without modification and all pages must be included;
2) All copies must contain BCHW's copyright notice and any other notices provided therein; and 
3) This document may not be distributed for profit. All trademarks acknowledged.